November 1st, 2012
The all new Estates is an amazing residentially designed full time 5th wheel that offers a ton of features for our customer. Starting at the top with a straight roof line, fiberglass roof, and fiberglass fender skirts, the Estates exterior is solid, low maintenence, and striking with its newly designed custom painted exterior.
When you step inside your eyes will be filled with delight as you notice the residential kitchen with a standard dishwasher, garbage disposal, and Whirlpool 25 cu.ft. refrigerator. The focal point of the Estates kitchen is the 2-tone cabinetry design with the above the island hardwood light box, and island base. The rich brown quartz countertop blends the two wood colors together beautifully.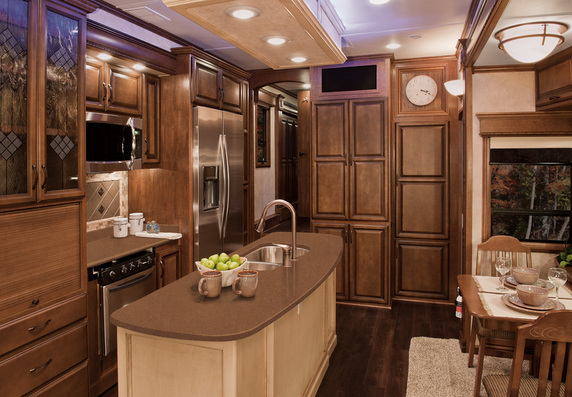 The Estates also features a rich Shaw vinyl plank flooring, LED TV's throughout, and Lane furniture. If you are looking for the most residential amenities for your full time experience, the Estates is sure to be the option for you!